How are Funders Helping in the Health Crisis?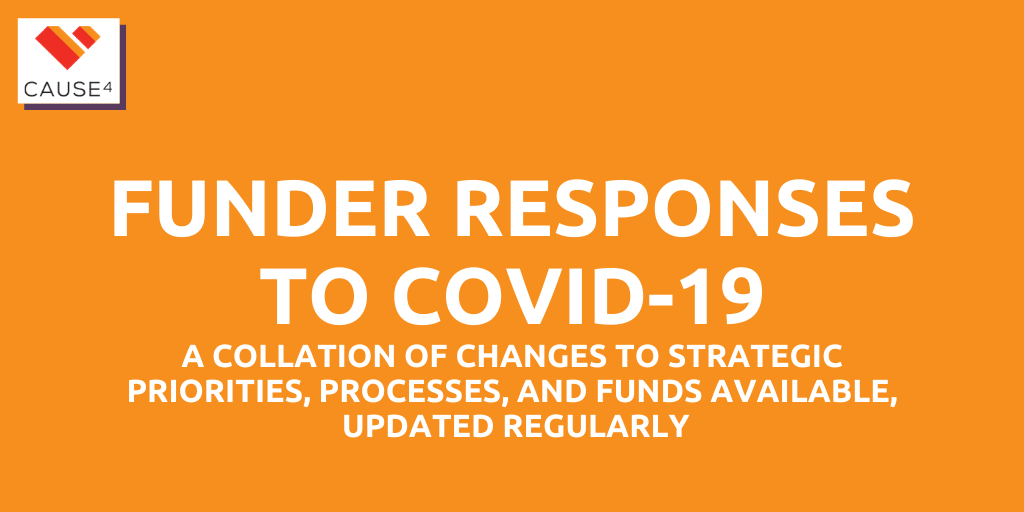 Officially declared a public health emergency on 30th January 2020, the emerging Coronavirus (Covid-19) pandemic has already greatly affected the charity sector across the UK. In order to support charities during this crisis, we have collated the responses of major funders from across sectors to create a resource for charities in this uncertain time.  
As Government begins to withdraw and amend its support there is an increasing need to notify organisations of changes to available support. Two key current issues are:
Recent Changes Furlough Scheme - The final day to register an employee on the scheme is 10 June. We would appreciate if you pass this information on to your organisations. 
Future Re-Opening Guidance - With the easing of the national lockdown, both the government and sector organisations are now bringing forward sector relevant guidance to help organisations plan for re-opening. At present universal Government guidance is available, however these pages will be expanded as more specific guidance becomes available.
Arts Council England
Arts Council England awards government funds and money from the National Lottery to arts projects nationally. It has announced its plans for emergency funding for individuals, National Portfolio Organisations and for organisations outside of the National Portfolio.
There will be £160million available; with £20million of financial support available to individuals, so they can better sustain themselves and their work, in the coming months. £50million will be made available to organisations that are not in receipt of regular funding from the Arts Council and £90million available to NPOs to reboot their creative work and to alleviate financial pressures on NPOs. 
Arts Council have published an FAQ guide here. To find out more about the financial support available, and how to access it click here.
Click here to access Arts Council England's Covid Support and Resource Pages - Organisations and Individuals
Arts Council England have a central resource setting out available Government and wider support for organisations and individuals relevant to the cultural sector. These pages are continually updated and are produced in consultation with DCMS
Tel: 0161 934 4317
Big Issue Invest
Registered charity number: 1042514
Big Issue Invest invests in social enterprise, charities and profit-with-purpose organisations. In response to the health crisis Big Issue Loans is rescheduling loans and being responsive to the needs of those it invests in. They are asking you to get contact if you need support or might need investment to help you through difficult trading. Big Issue Invest is also creating a dedicated page on Good Finance with updates on emergency funding sources. To find out more click here.
Tel: 07506 336 535 (Kevin, Head of Lending)
Email: enquiries@bigissue.com
Charities Aid Foundation (CAF)
Registered charity number: 268369
CAF is a charity, a bank and an organisation that champions better giving. In response to the national crisis, CAF has launched a rapid response fund of up to £10,000, which will be delivered with 14 days of application to charities nationwide. Applications are open now to charities, charitable or not-for-profit entities (eg CICs) and unregistered entities and social enterprises.
Due to high demand, CAF has paused applications to its rapid response fund temporarily, find out more here.
Tel: 03000 123 000
Email: CAFemergencyfund@cafonline.org
City Bridge Trust
Registered charity number: 1035628
The City Bridge Trust makes grants to support Greater London in the areas of reducing inequality, and build thriving communities, among other aims. It has launched a £2 million fund with the Greater London Authority to support the London charity sector. This has been announced as the London Community Response Fund, coordinated by London Funders. It has also signed the London Funders statement of reassurance. Wave 1 is emergency grants of up to £5,000 for immediate and urgent needs, and it will be paused on Monday 15th June. Find out more here.
Tel: 020 7332 3710
Clore Duffield Foundation
Registered charity number: 1084412
Clore Duffield Foundation is a major supporter of capital arts developments, with a particular interest in learning spaces within performing arts, education, health and social care. It has sent a strong message of understanding and flexibility in response to the health crisis, offering flexibility in deadlines and events, whilst expressing a desire to continue funding as normal. To find out more click here.
Tel: 020 7351 6061
Email: info@cloreduffield.org.uk
Comic Relief
Registered charity number: 326568
Comic Relief provides funding for charities tackling poverty. It is committed to supporting the organisations that it funds, whether through reviewing timeframes, adapting activities, or rebudgeting, in response to the health crisis. It has posted a detailed FAQ here. Please contact your contact person to discuss how this will affect your work.
Some funds raised from Sport Relief will also be redirected to frontline Covid-19 response. You can find out more on this and the charity's response here. Comic Relief has also opened an emergency fund collecting donations.
Tel: 020 7820 2170
Covid 19 Funders
This is a list of funders that are committed to flexibility and adaptation to the challenges posed in this difficult time. To see the full list click here.
Culture at Risk Business Support
The Mayor of London, Sadiq Khan, has today launched a new emergency £2.3m fund to support culture and creative industries at risk due to the impact of the coronavirus. He is working with the Music Venue Trust, the LGBTQ+ Venues Forum, the Creative Land Trust and BFI to help venues and artists across the capital through the new Culture at Risk Business Support Fund.
Organisations set to benefit are those most at risk of falling into administration and unable to benefit from Government schemes. This will be supported by an investment from Bloomberg Philanthropies.
Find out more information here.
Esmée Fairbarn Foundation
Registered charity number: 200051
Esmée Fairbairn Foundation supports work that focuses on arts, children, the environment, food and social change. The Foundation is offering flexibility around payments and reporting during this difficult time, it is keen for anyone in receipt of a grant to get in touch with their Grant Manager for further advice. It has made an additional £16 million available in funding and it is currently focusing on supporting existing grantees. It is not open for applications at this time. Find out more here.
Tel: 020 7812 3700
Email: info@esmeefairbairn.org.uk
Garfield Weston Foundation
Registered charity number: 230260
Garfield Weston Foundation supports a broad range of charitable work across arts, education, community, environment, faith, health, welfare, Museums and Heritage and youth. The Foundation advises that it is business as usual, both for new and existing applications. They have a range of measures in place including: taking a phased approach to grants; collaborating with others to remain joined-up; convening exceptional meetings of Trustees as needed to expedite decisions. For more information click here.
Tel: 020 7399 6565
Email: admin@garfieldweston.org
The Gulbenkian Foundation
The Gulbenkian Foundation focusses on building coalitions to tackle complex global problems. The Foundation have signed up to the London Funder statement, committed to: Adapting activities, Discussing dates, Financial flexibility and Listening to you. They are also committed to continuing with their work and values at this time. Find out more information here.
Tel: 020 7012 1400 
Email: info@gulbenkian.org.uk
Joseph Rowntree Charitable Trust
Registered charity number: 1184957
Joseph Rowntree Charitable Trust is working to solve UK poverty. They are supporting flexibility, and have announced an organisational support fund for grantees to help them adapt to work during the Covid-19 crisis. These are only available for current grant holders and are small grants of up to £1,000 designed to assist with the costs associated with transitions to remote and online working, specific information of which can be found here.
They are also able to accommodate changes in timelines, reasonable requests for financial flexibility and for charities to redirect work to focus on the current situation. Find out more here.
They are also producing a range of resources to support funders, available here.
Tel: 01904 629 241
Email: info@jrf.org.uk
London Funders
Registered charity number: 1116201
London Funders is a membership network for funders in London. It has coordinated a joint statement from its members to reassure charities in this time of crisis. It has over 100 signatures with funders pledging to be flexible and to stand with the sector.
London Funders is further coordinating the London Community Response Fund, which has been backed by the Greater London Authority and City Bridge Trust with £2 million to date to support the charity sector in London. Wave 2 of funding is grants of up to £10,000 to enable you to meet the immediate needs of communities, from food and essentials, to equipment and additional short-term staff costs. You can apply for a maximum of 3 months of funding. Applications are now paused and will reopen at some time in June.
The first two waves have been allocated funds. To find out more click here.
National Lottery Community Fund
Registered charity number: 1107927
National Lottery Community Fund (NLCF) distributes funds to communities across the UK. The NLCF announced their support on behalf of the government on Friday 22 May at 10am. This fund will distribute £200million, and is aimed at small to medium organisations in England. The fund will prioritise:  
organisations supporting people who are at high risk from COVID-19
organisations supporting communities most likely to face increased demand and challenges as a direct result of COVID-19
organisations which connect communities and support communities to work together to respond to COVID-19.  
Grants will allow organisations to meet costs where there is increased demand or short term income disruption, or to refocus services to address immediate beneficiary needs due to Covid-19. 
Read the full press release here, and apply for the grant here.
The NLCF also has an advice line that is being tested to increase capability, full details can be found here.
Tel: 028 9568 0143
Email: general.enquiries@tnlcommunityfund.org.uk
National Lottery Heritage Fund
The National Lottery Heritage Fund (NLHF) is the largest dedicated funder of heritage in the UK, it distributes lottery funds allocated by the National Heritage Memorial Fund. In response to the health crisis it has put together a £50million fund to support the heritage sector. It will continue to support its current projects and is offering this new fund in addition to support the sector. It will be available in grants between £3,000 and £50,000. New grant applications have been suspended. Find out more on these measures here.  
Tel: 0207 591 6000
Paul Hamlyn Foundation
Registered charity number: 1102927
Paul Hamlyn Foundation supports young and/ or disadvantaged people in the arts. The Foundation is focusing on practical support and reassurance. It has announced it will focus effort and resource from April 2020 to Autumn 2020 on ensuring grantees can survive the impact of the pandemic. It has created a £20 million Emergency Fund, in addition to the £30 million already allocated to grant-making programmes. Find out more on these new measures here.
The Foundation has also contributed £500,000 each to National Emergencies Trust and London Community Response Fund. Find out more here.
Tel: 020 7812 3300
Email: information@phf.org.uk
Sport England
Sport England is the national funding body awarding money to to help the sport and physical activity sector. It has announced up to £195million of funding available to help the sport and physical activity sector through the ongoing Coronavirus (Covid-19) crisis. This includes: a Community Emergency Fund for existing partners, money to fund new and innovative ways to support the sector to keep people active, and a rollover of current funding into 2021/22 to give long term certainty to partners. Find out more here.
The fund will be paused for applications this Thursday 14th.
Tel: 0345 8508 508
Email:  funding@sportengland.org
Swire Charitable Trust
Registered charity number: 270726
Swire Charitable Trust funds a wide range of charities that support positive and lasting change to UK society.
The Swire Charitable Trust is now accepting online funding requests. Grants of up to £25,000 will be reviewed on a monthly basis, with larger grants being reviewed quarterly. Having paused meetings scheduled for April and May, trustees meetings will resume at the end of June. They are encouraging all grants holders that they are willing to be flexible, and to get in touch if they would like to discuss possible repurposing of the grant. Find out more information and about how to apply here.
Tel: 020 7834 7717
Email:  info@scts.org.uk
The Foyle Foundation
Registered charity number: 1081766
The Foyle Foundation funds the arts, learning and school libraries and has main and small grants available. Their Main Grants Scheme and Foyle School Library Scheme will remain suspended in respect of new Applications. The Small Grants Scheme will re-open to new applications with effect from June 2020 on the basis of changed criteria, which will be updated on the website in May, in order to support small local charities, largely staffed by volunteers, who do not have the financial resources to sustain their activities when they are unable to raise money in their communities. All current grant recipients  and pending applications already in the pipeline will continue to be supported by the Foundation, on a case by case basis. You can find out more here.
Tel: 020 7430 9119
Email: mgs@foylefoundation.org.uk (Main Grants Scheme)
           sls@foylefoundation.org.uk (School Library Scheme)
           sgs@foylefoundation.org.uk (Small Grants Scheme)
The Sainsburys Family Trusts
Registered charity number: (various)
The Sainsbury Family Trusts fund a wide range of causes through multiple Trusts such as The Linbury Trust, The Gatsby Charitable Foundation and The Jerusalem Trust. The Trust Family is offering a strong message of reassurance and has signed the London Funders agreement assuring grant holders it will be flexible. It does not expect grantees to explain cancellations or postponements now but is happy to talk about any concerns charities may have. Please let them know by email how they can help. Find out more here.
Tel: 0207 4100 330
Email: info@sfct.org.uk
The Rayne Foundation
Registered charity number: 1179912
The Rayne Foundation funds creative ways of tackling entrenched social issues through the arts, health and wellbeing. The Founcation is continuing to operate and can be contacted in all the usual methods. The Foundation is accepting applications as normal and is pledging flexibility for existing grant holders. It will not be offering emergency funding to applicants with whom they have no existing relationship. Please email the Foundation if you have any concerns or find out more here.
Tel: 020 7487 9656
The Wellcome Trust
Registered charity number: 210183
The Wellcome Trust supports educators, researchers and innovators in the fields of biomedical science, population health, product development and applied research, humanities and social science, and public engagement.
It is supporting the crisis in a variety of ways, such as: no-cost extensions of up to 6 months are available on all grants; individuals receiving research funding are able pause research to return to frontline medical work to support the outbreak; all funding schemes remain open as usual; if a staff member becomes ill Wellcome will supplement your grant to cover the sick leave of that person; and it will support salary costs for grant holders, fellows and staff members if salary cannot be provided from elsewhere. Find out more here.
Tel: 020 7611 8888
The Wolfson Foundation
Registered charity number: 1156077
The Wolfson Foundation has a long history of supporting the arts and humanities, with a key focus on funding capital projects. It has signed the London Funder Covid-19 flexibility agreement. The Foundation is able to honour its committed grant-funding as planned. If you have an application currently under consideration this will be reviewed as planned in May and June. Please contact the Foundation if you feel the project cannot go ahead as planned. Where possible please email rather than call. Find out more here.
Tel: 020 7323 5730
Email: grants@wolfson.org.uk
If you are personally struggling through the crisis, here is a discussion about guarding mental health during the COVID-19 pandemic.
This list is by no means exhaustive and will be updated as the situation develops. If you have a funder to add to the list or can provide an update to our information please get in touch on sarah.teale@cause4.co.uk.