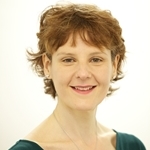 Last Wednesday, the House of Commons published its report on the Work of Arts Council England.  The report focuses in particular on the issue of the proportion of Arts Council funding which is spent within London, and across the rest of the country.
I would argue that the report, whilst undoubtedly highlighting some key issues regarding funding for the arts across England, underestimates the amount of time, resource and effort it will take to influence change on any significant scale.
The final recommendation of this report is that: 'the Arts Council is well-placed to tackle the clear imbalance of funding that favours London unfairly.  It must do so with greater urgency if it is to realize its declared ambition to engineer the provision of great art and culture for everyone' (p.38).
The report authors do not set out what they mean by 'greater urgency'.  Arts Council England issued a statement in which they stated: 'We share the committee's desire for a speedy response to the historic challenges to rebalancing.  It is difficult to act urgently when our income is shrinking and it is not our job to damage what is good out there – including the thriving cultural life of our capital city'.
If we look at their recent decisions for the 'new' National Portfolio Organisations, published in July 2014, we can see how little geographic change there will be in funding allocation:
There is very little variation between funding across regions.  The slight reduction in funding to London and increase of funding in Yorkshire is mainly due to the decision to reduce funding to English National Opera and to increase funding to Northern Ballet and Opera North, both national touring organisations based in Leeds.  Whilst this re-apportionment of funding was undoubtedly welcomed by many in the arts sector, it will arguably have minimal impact on the public, simply because, as the Taking Part Survey demonstrates, only 3-4% of the population attend opera and ballet performances.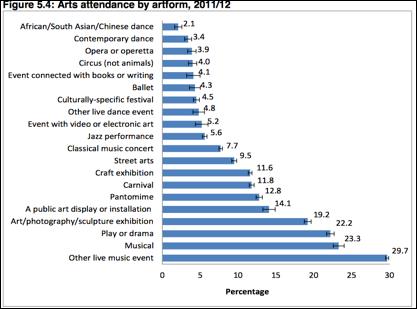 The regional Taking Part report for Yorkshire shows very little variation from these national figures, with 5% of the regional population attending ballet performances, and only 2% attending opera performances.  Both Opera North and Northern Ballet tour their work nationally and undertake extensive education activity, but nonetheless their work will not have the public reach of other kinds of art.
This underlines the point that simply re-balancing funding across regions will not necessarily address the issue of unequal public access to the arts – this has to be more than a spreadsheet exercise.  My concern is that this is exactly what it will become, due to the need for the Arts Council to 'tell a simple story' of re-balancing.
Non-building based companies in London face the strange situation where it would be more expedient for them to open an office in the North East of England so that their Arts Council funding can be re-assigned to that region, even if they continue to undertake the majority of their activity in London.  This is patently crazy – and again it does nothing to increase public access to the arts outside London, it just makes life more administratively and logistically harder for already hard-pressed artists and managers.
The report highlights that there needs to be 'a realistic, quantitative assessment of the scope for philanthropic giving and self-help' (p.36).  I would endorse this, but I would also caution against the assumption that private giving is 'easier' in London, and it would be possible to cut public funding to London organisations in the short term, on the understanding that they would automatically make up the shortfall from private investment.
Private income streams (trusts & foundations, businesses and individual giving) takes years to develop, and require long-term staff and financial investment.  No organisation can build its capacity for securing private income without advance investment.  So, if Arts Council England did intend to withdraw core funding from London organisations, it would need to offer them 'Catalyst-like' funding in order to increase their fundraising capacity, with the understanding that it will take at least three years to demonstrate significant financial returns.
I would also be very concerned about the small-scale organisations in London, those with turnovers of less than £250,000.  Based on Arts Council England's own survey of NPOs in 2013/14, those organisations are more heavily reliant on Arts Council funding (60% of their income), receive pretty much no local authority support (0.8% of income), but still manage to attract an average of 10.6% in private income.  The London arts & cultural scene relies upon these small, fleet-of-foot organisations for innovation & new ways of working.  Their work is often more difficult to sell to private investors precisely because it is new and untested.  They are often working intensively with communities in London, which would otherwise have little access to high quality art.  Their need for public funding should not be judged simply on the basis of their postcodes.
All of this tells me that the Arts Council, and the arts & cultural sector as a whole, needs to get better at making its own case for support to government, particularly in relation to public benefit.  Postcode analysis is not enough – we need more evidence on real, meaningful relationships and connections between art and people, not superficial analysis of where publicly-funded buildings, or companies, happen to be based.
What do you think? We'd love to hear your views.
"The Cause4 blog has been nominated in the National UK Blog Awards 2015, for its contribution to the blogosphere with intriguing content, written by the Cause4 team. Please vote for Cause4 Opinion here"